SERVICES
Sheet Metal Fabrication
SHEET METAL
Together with our clients, we are shaping the future one piece of metal at a time. Precision sheet metal fabrication is one of our core competencies, so if you need support in pushing your project forward we're the right people to come to. Our experienced fabricators have a thorough understanding of materials, specifications, and the hard work required to build quality into every part. 
Our sheet metal fabrication capabilities include stamping, machining, rolling, bending, forming, welding, and assembly. We specialize in aluminum and steel sheet metal fabrication, however, our team works with a variety of metals ranging in composition and thickness (.024 – .25" and .125 – .5" bar and round stock), including carbon steel, copper, titanium, and less common alloys.

METAL PLATE ROLLING
To serve your plate, structural, tubing, and pipe rolling needs, we have the capabilities to meet virtually all of your steel and alloy rolling requirements. DFI guarantees first-rate workmanship of all our products to meet your specifications. 
Our rolling capacities include:
Metal Plate Rolling

Beam Bending

Channel Bending

Angle Rolling

Square and Rectangular Tube Bending

Metal Pipe Bending

Sheet Metal Rolling
METAL BRAKE PRESS
Dynamic Fabrication has a variety of metal press brakes, presses, and sheet and profile roll-bending machines to offer metal forming capabilities to our clients. We have the capabilities and experience to form cones, transitions, channels, angles, brackets, and a large variety of other components in a variety of sizes. DFI specializes in complicated press brake formed transitions. We can assist with the fabrication of fittings, formed angles, or complicated transitions.
Our metal press brake forming services use CNC gauging and multiple forms. Our presses, which are rated from 20 to 330 tons, allow us to work with stainless steel, cold-rolled steel, aluminum, and titanium on forms with a maximum height of 12 inches. On stainless steel and cold-rolled steel, we can handle a maximum stock thickness of .250″.
Our four brakes range from 60 to 330 tons, enabling us to produce complicated parts in one piece without splice welding or assembly. Hydraulic and mechanical presses allow fabrication of parts that are up to 14 feet long. Our CNC and forming fabrication are intended for applications that include angles, side frames, rails, and booms.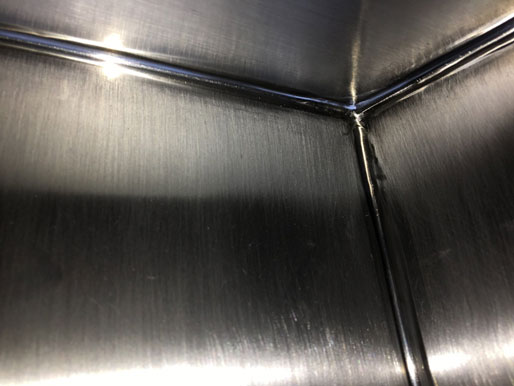 Welded Trough System

Requirements: Precision Ground Welded Seams
Material: 304, .125" Thick, 308 Filler
Fabrication Software: Solidworks, TruTops Boost, PC-DMIS
Fabrication Processes: Press Brake, Welding, Passivation