SERVICES
Fixture Fabrication
A well-crafted fixture can increase your accuracy, and we're all about accuracy here at DFI. We want to help you reach your production goals efficiently and effectively by fabricating the fixture you need, no matter the size.
Tooling, fixtures, and stands fabricated by Dynamic Fab are indicative of our close tolerance fabrication, certified welding, and precision machining. Our in-house fabrication services include welding, conventional and 5-Axis CNC machining, and assembly. We also fabricate inspection fixtures.
We are a custom fabricator of fixtures for several high profile Mil. Spec aircraft projects including the F-35 and F-22 Raptor. We understand the unique needs of the aerospace industry, such as sourcing aerospace materials, comprehending GD&T and meeting AS9102 FAIR inspection at the highest levels so we can work quickly to meet your schedule and specifications. We carry a number of customer-specific certifications including all Lockheed certifications.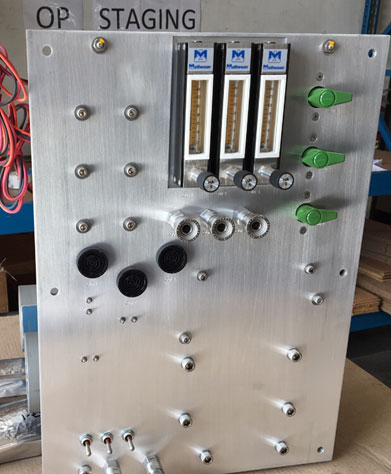 Gas Chassis

Requirements: Fabricate Gas Chassis for Clean Room Application
Material: 304, Copper, Aluminum
Fabrication Software: Solidworks, MasterCam, TruTops Boost, PC-DMIS
Fabrication Processes:Tube Bending, Flaring, Press Brakes, CNC Mill
Inspection Methods: CMM and Visual