SERVICES
Machined Parts & Weldments
At DFI we harness the scientific method with a little bit of elbow grease and a lot of attention to detail. We emphasize research at every step of the way so we are confident we will ace your project goals. We adapt trusted techniques and technologies to develop new methods all in the name of creating your specialized part. 
Our machined parts are an example of close tolerance fabrication, Mil. Spec. weldments, and precision machining that we provide to a spectrum of impressive industries. Whether you need parts machined quickly for a prototype build, or 1,000 pieces for an OEM project Dynamic Fabrication can meet all your targets.
TUBE BENDING
Our tube bending process provides standard bend radii from tight mandrel bends to large, sweeping roll bends. We also offer bending of pre-coated and painted parts. We fabricate metal tubes of length up to 27 feet. Mild steel, stainless steel, and aluminum are materials we most often use to produce these tubular components.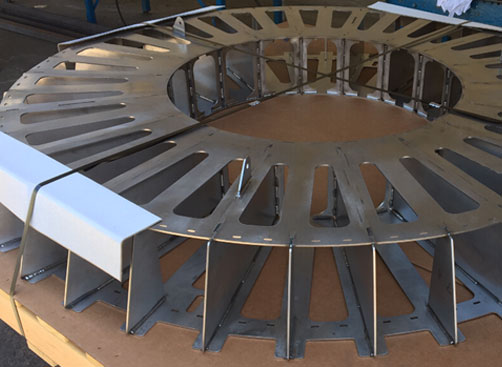 Aerospace Braze Fixture, 60" Diameter.

Requirements: 10-Day Turnaround, Minimize Material Usage, Class C Weld, 100% Visual Inspection, All Intersections, Perpendicular within .020"
Material: Inconel 625
Fabrication Software: Solidworks, TruTops Boost, PC-DMIS
Fabrication Processes: Laser Cutting, GTAW, Grinding
Inspection Methods: Visual Inspection, Romer Arm Laser Scanning Inspection, Grinding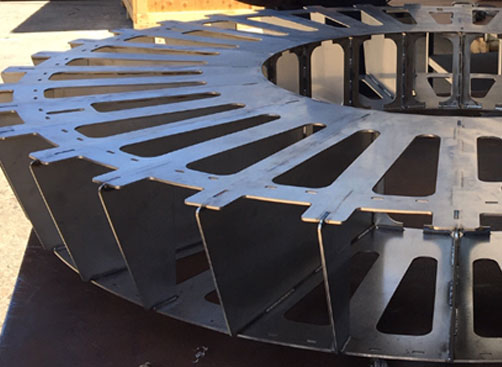 OVERVIEW
MACHINED PARTS & WELDMENTS