SERVICES
Nadcap Accredited Aerospace Welding
Aerospace welding comes to us like second nature. Our insights are gained through years of experience supporting a wide range of aerospace industries. We apply strategies and technologies from these industries to provide better solutions for your aerospace project. Our innovation ensures that you succeed.
We fabricate replacement parts, assemblies, prototypes, and short-run parts to aircraft, rocket, and satellite manufacturers for commercial and military aerospace needs. We also support defense contractors with tooling, test fixtures, OEM, and ground support equipment.
Our accomplishments in welding are fueled by our respect for the craft. The balance of patience and power comes into play while welding, which entices us to keep building upon our knowledge and finesse.
Consider DFI next time you need a concept turned into something concrete. We are an approved welding supplier for Raytheon, Lockheed Martin, Northrop Grumman, Safran, Collins, Aerojet Rocketdyne, and SpaceX.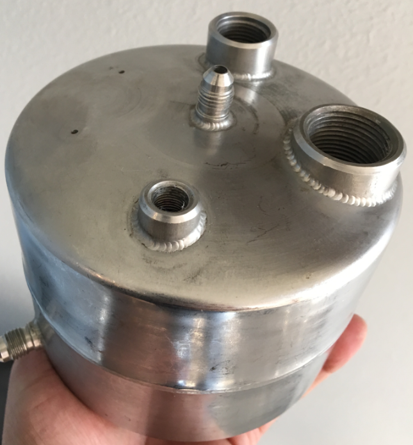 Aircraft Hot Water Pressure Tank, 6" Diameter.
Requirements: Weld, Hydrostatic Pressure Testing, Heat Treat, Passivation 100% Weld Visual Inspection
Material: 304 Stainless
Fabrication Software: Solidworks, TruTops Boost, MasterCam
Fabrication Processes: Deep Draw, Laser Cutting, Lathe, Manual Mill, GTAW
Inspection Methods: Visual Inspection, CMM, Leak Testing